Under • MOHS Exhibit August 2011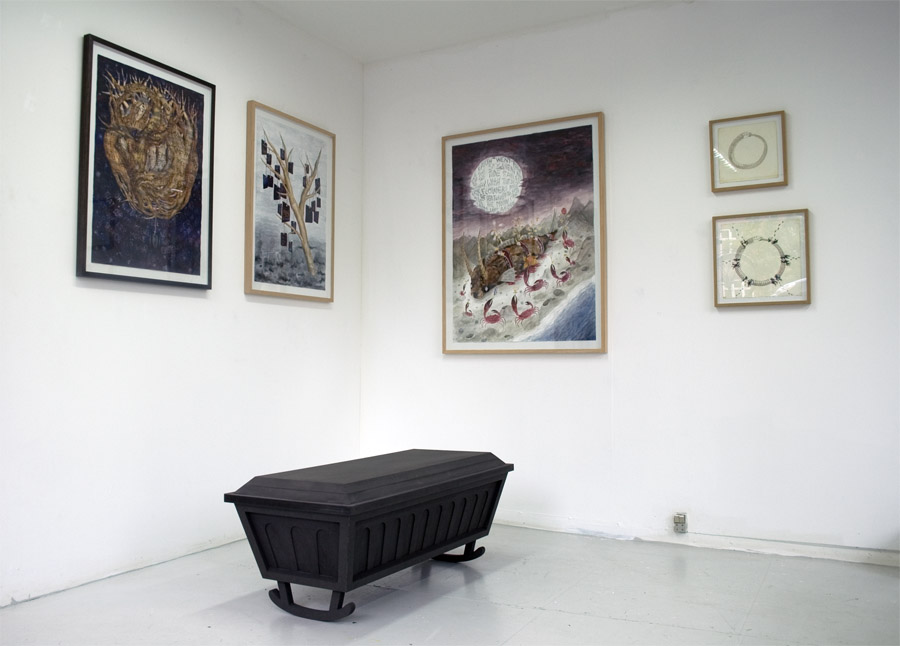 Under instalationview MOHS Exhibit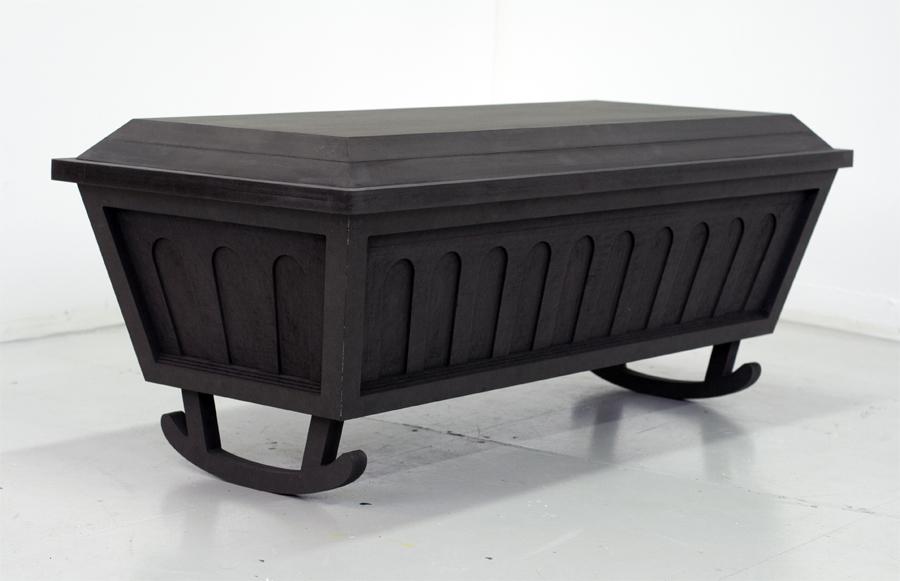 Untitled, black mdf, 110l x 49w x 44h cm.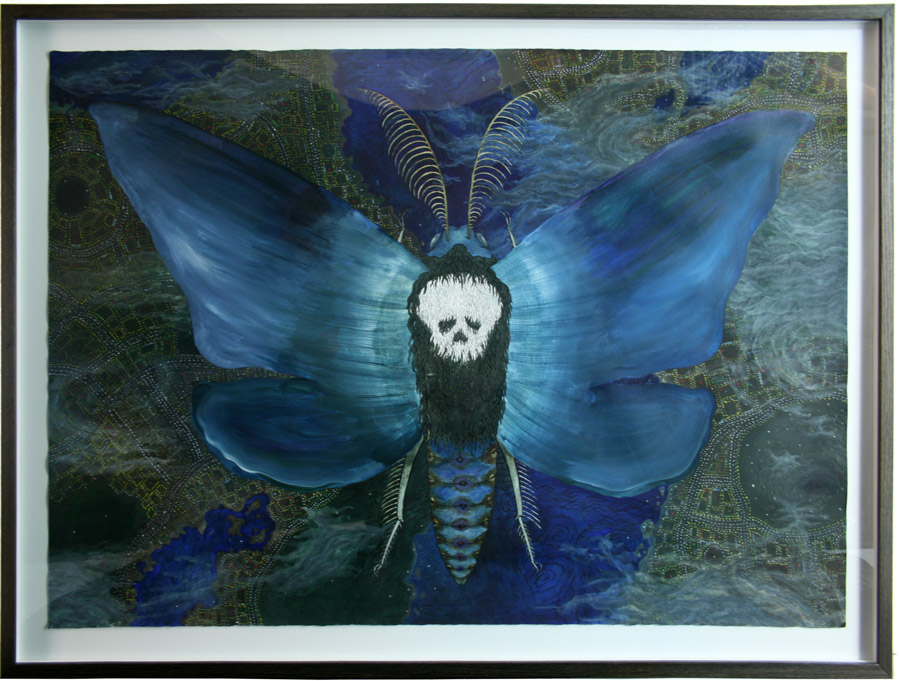 Above, watercolours, acrylics, and ink on paper, 81x90cm.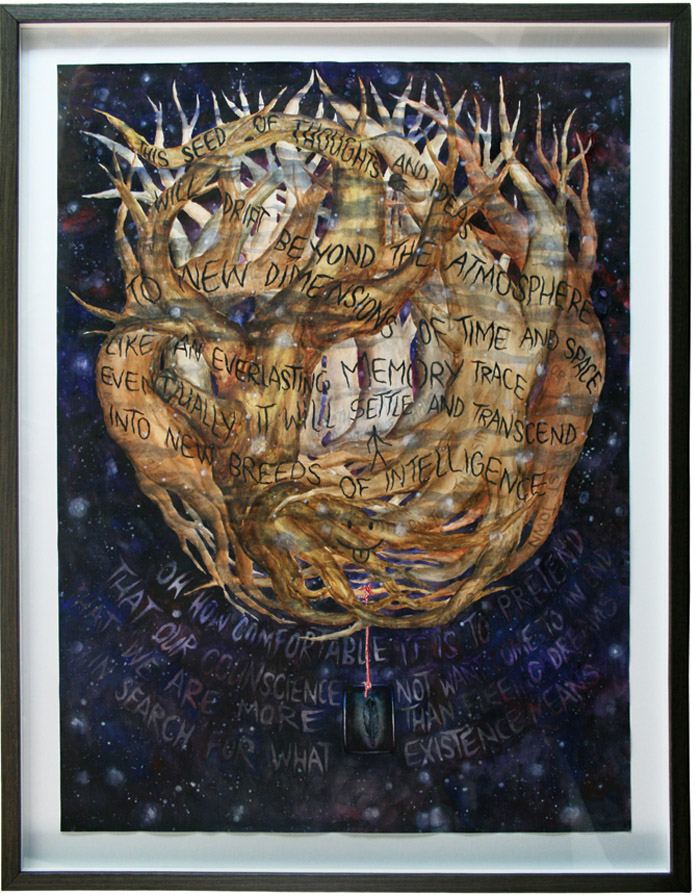 Seed, watercolours on paper, 56x86cm.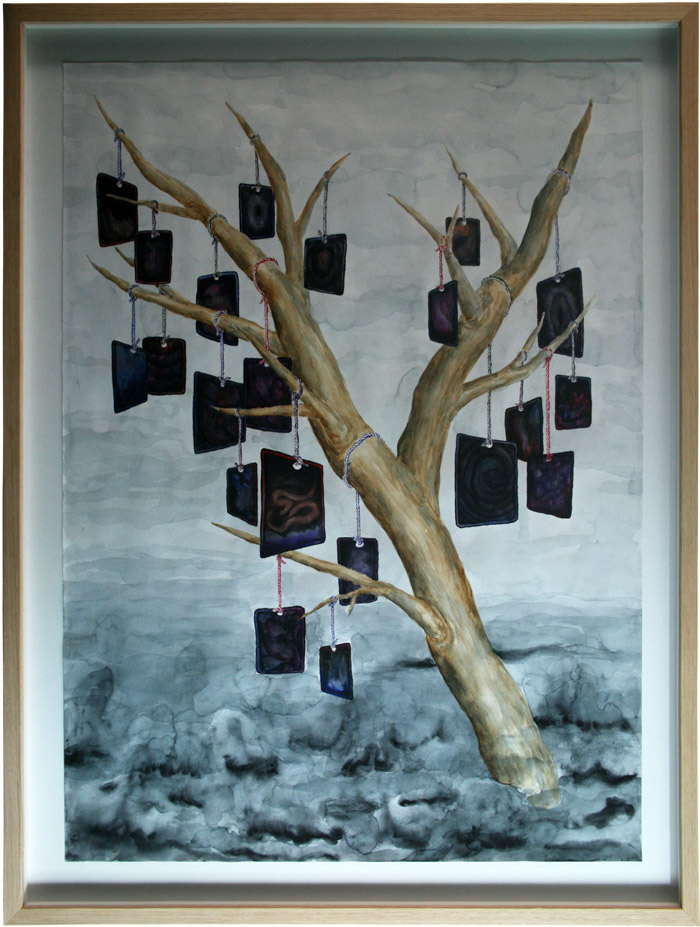 Untitled, watercolours on paper, 56x86cm.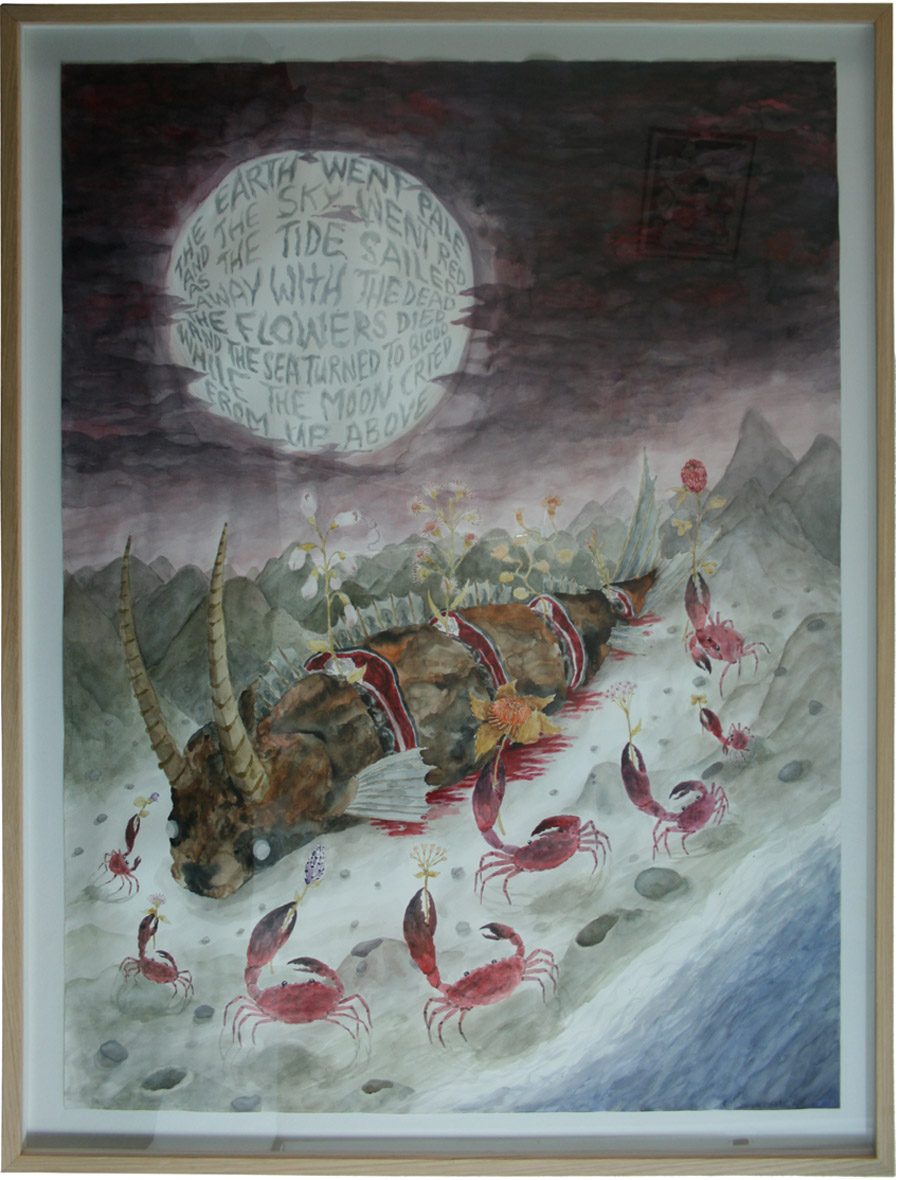 Midnight funeral at the holy sea between River Styx and Sanzu No Kawa,
watercolours on paper 110x85cm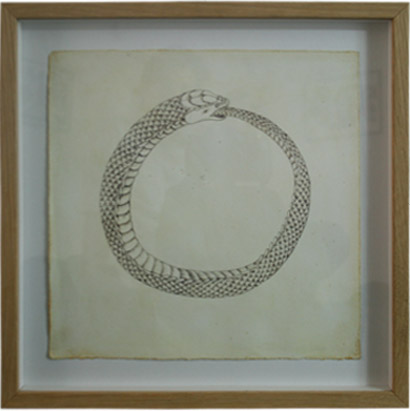 Untitled, ink on paper, 30x30cm.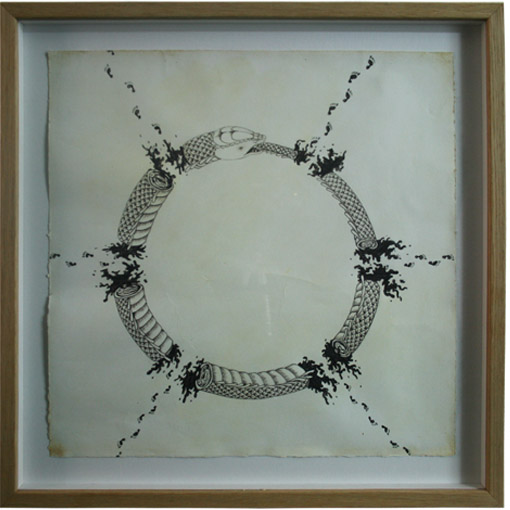 Untitled, ink on paper, 38x38cm.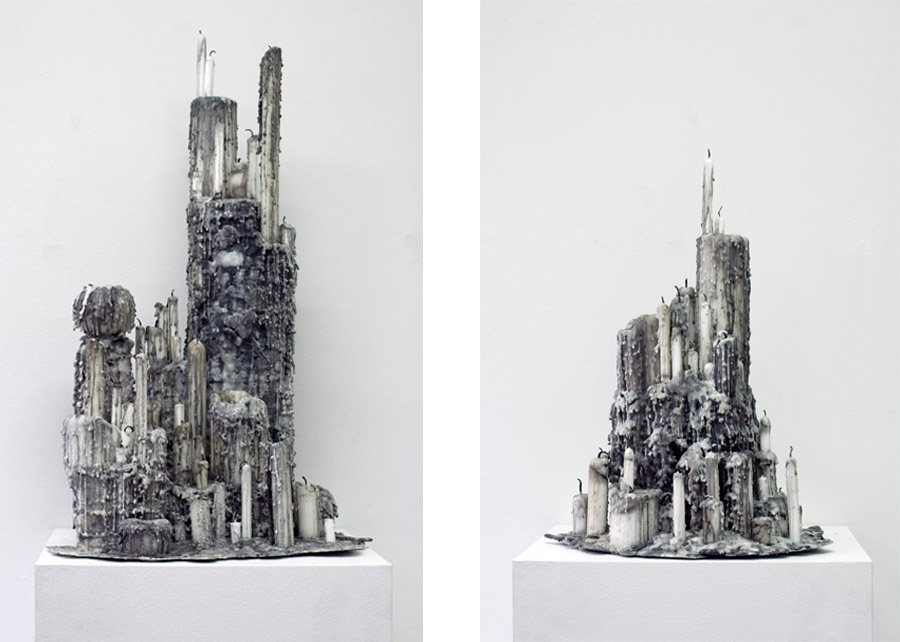 Untitled, candlelight and soot, 66 cm high, and 49 cm high.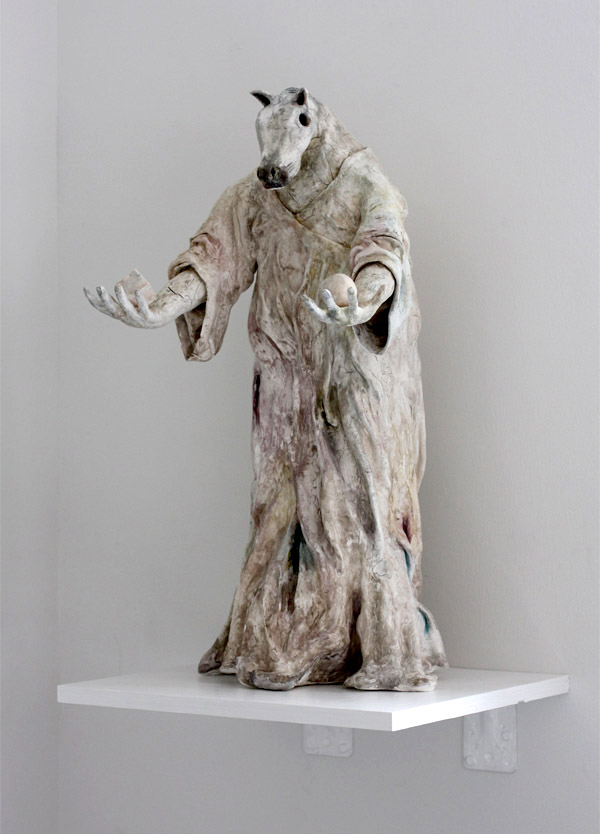 Weird Souvenir, paperclay and watercolours, 60 cm high.
Under (pressemeddelelse dansk)
I udstillingen "UNDER" viser Silas Inoue nye tegninger, akvareller, og skulpturer i MOHS Exhibit's forreste udstillingsrum.
Med døden som overordnet tema udforskes religiøse, og fabulerende sider af menneskets natur, og på baggrund af dette opstår en forunderlig ikonografi, hvor symbolske dyr og planter i samspil med rituelle objekter, og poetiske tekster udtrykker både personlige, og mere generelle ideer om døden og efterlivet. Udstillingen leder her hen til tre af de mest udbredte forestillinger -
- Ideen om en repeterende livscyklus af reinkarnation, som i hinduismen og buddhismen.
- Den monoteistiske tro på en dømmende guds tilsagn om himmel eller helvede,
som i kristendommen og Islam.
- Den naturvidenskabelige forklaring af døden som værende selvets definitive afslutning.
Derudover opstår mere okkulte motiver hvor naturens kræfter stilles overfor menneskets bestræbelse på udødeliggørelse, og rastløse forsøg på at overgå sig selv.
Forskellige forestillinger væver sig ind og ud af hinanden i en flydende helhed, på den måde omfavnes den uvished som er forbundet med døden - er der en større hinsides kraft? Og er der et liv efter døden? Ud fra disse universelle spørgsmål, og som en gestus til tvivlen, peger udstillingen således i flere forskellige retninger.
UNDER (press release english)
In the exhibition "UNDER" Silas Inoue shows new drawings, watercolours, and sculptures in the front room of MOHS Exhibit.
With death as the main theme, the religious and fabulating nature of man gets explored, and a strange iconography occurs, where symbolic animals and plants in interaction with ritual objects, and poetic writings expresses both personal and more general ideas about death, and the afterlife. The exhibition here leads to three of the most widespread notions
- The conception of a repeating life cycle of reincarnation, as in Hinduism and Buddhism.
- The monotheistic faith in a judicial god who pledges heaven or hell, as in Christianity and Islam.
- The scientific belief that death is the definitive end of the self.
Additionally more occult motifs emerges with the forces of nature contradicting the human effort of obtaining eternal life, and restless attempts on exceeding it self.
Different notions weave in and out of each other in a fluid entirety, in this way the exhibition embraces the uncertainty related to death - is there a greater power beyond our understanding? And is there a life after death? Out of these universal questions and as a gesture to the doubt, the exhibition points towards several different directions.