Marathon of the Spiritual Ape • MOHS Exhibit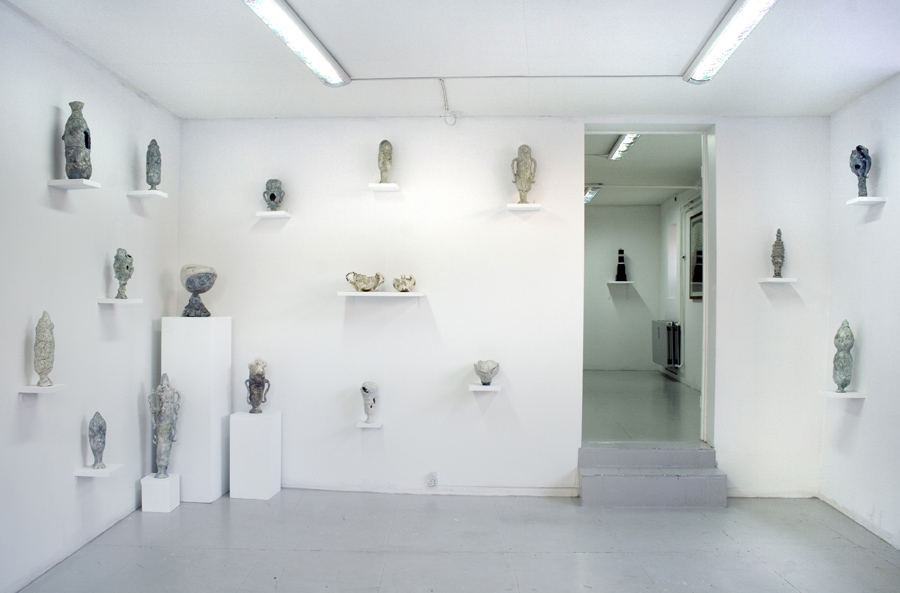 Marathon of the Spiritual Ape, installation view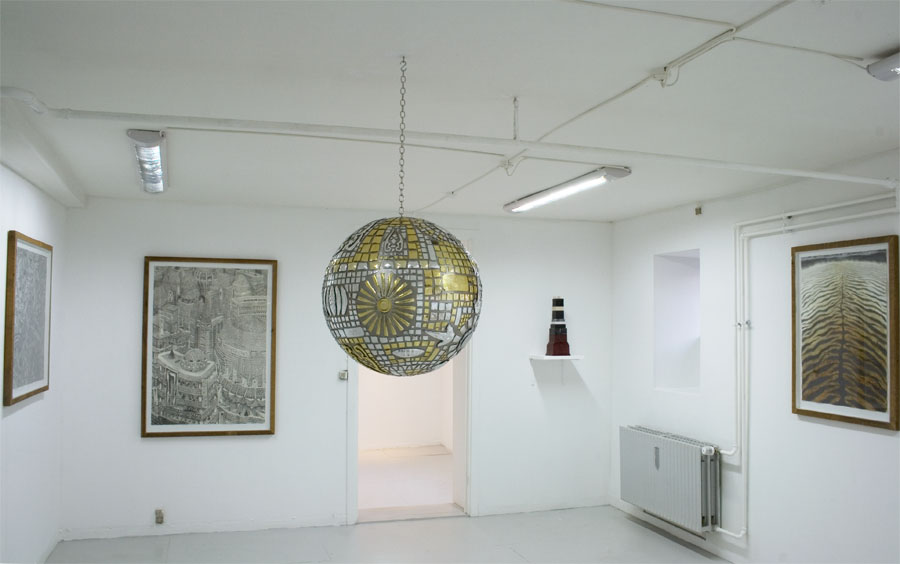 Marathon of the Spiritual Ape, installation view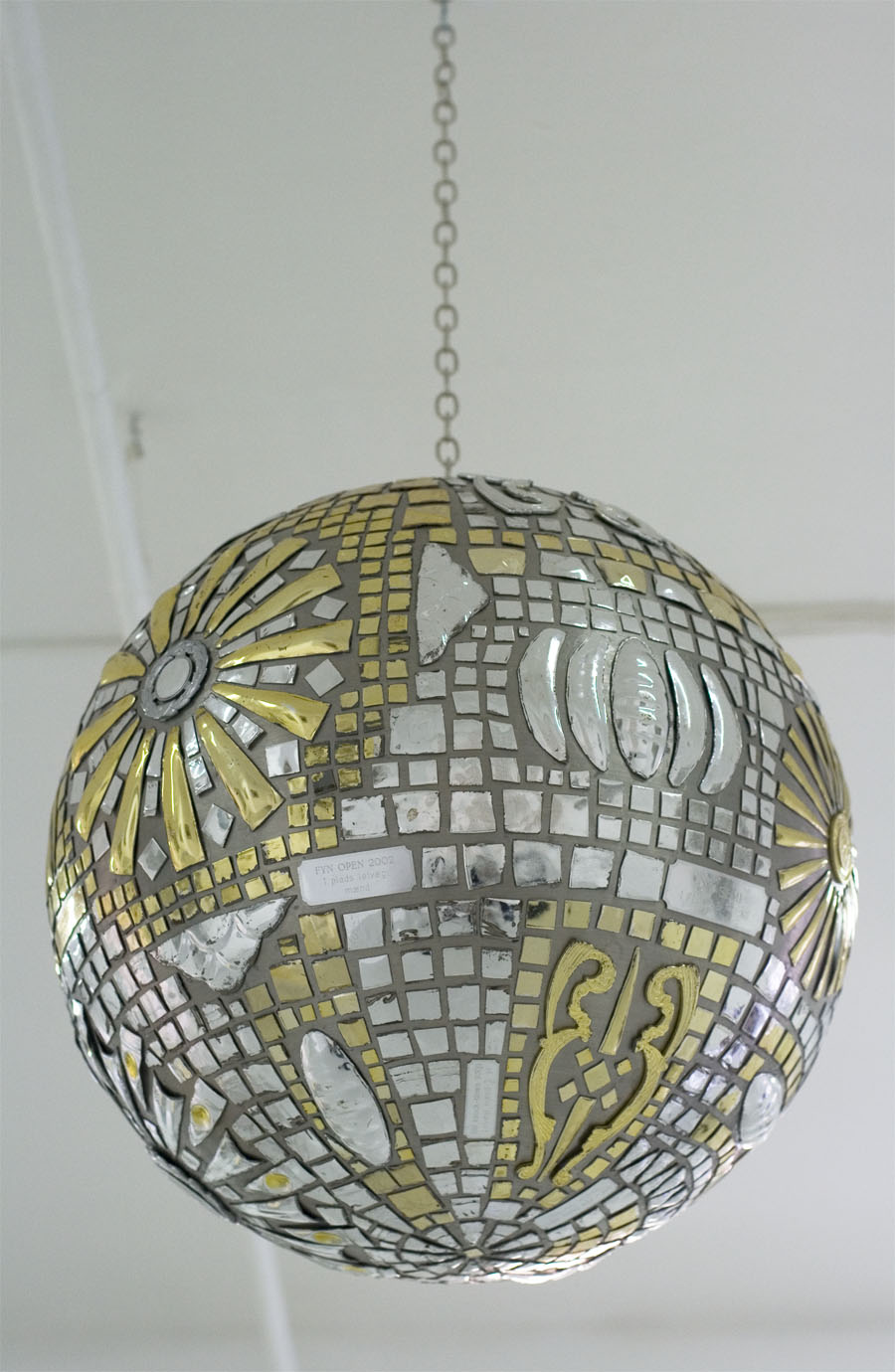 Lets Dance, 13 Karate trophies cut up and mounted on metal ball 50cm diameter.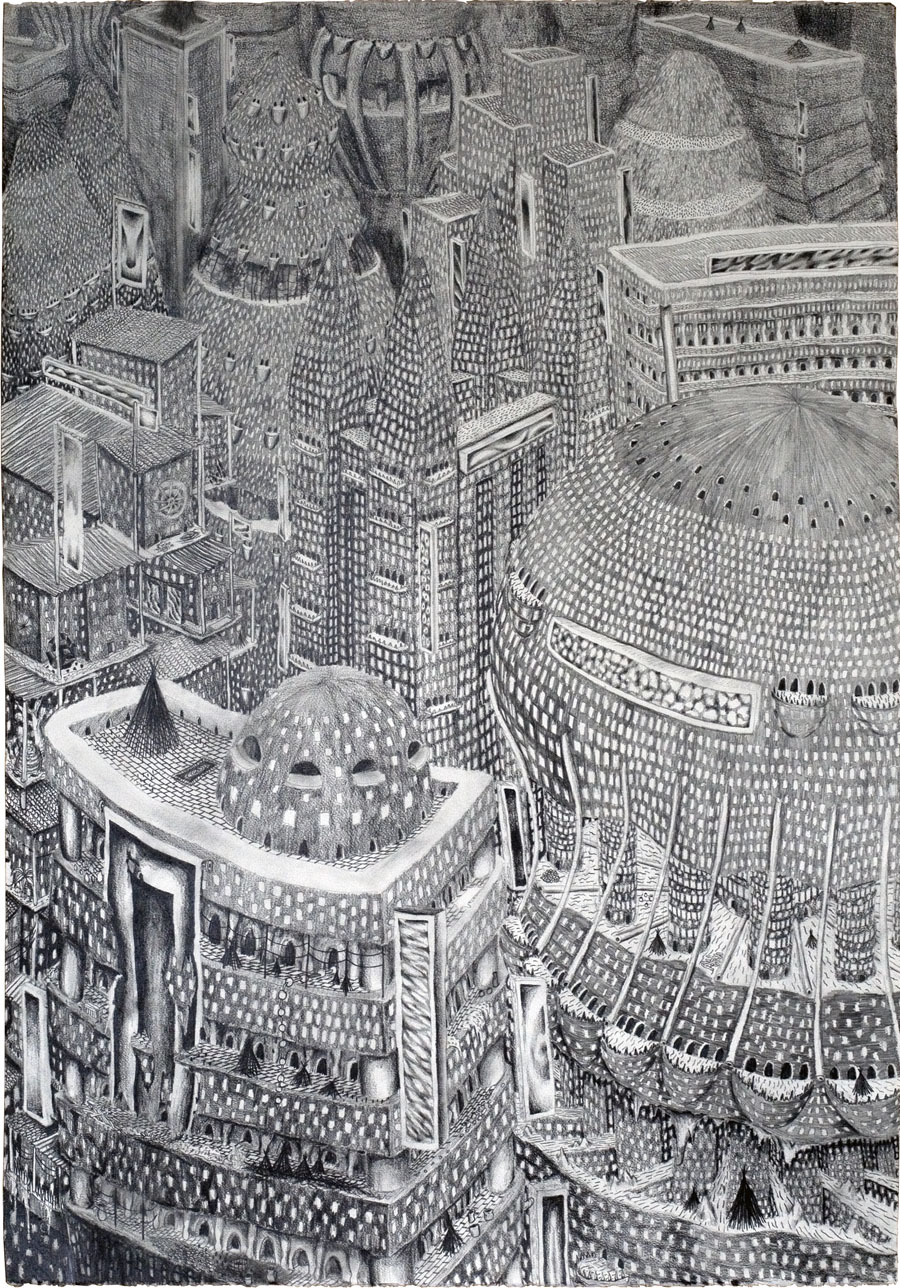 City of Phosphenes, pencil on paper 105x74cm.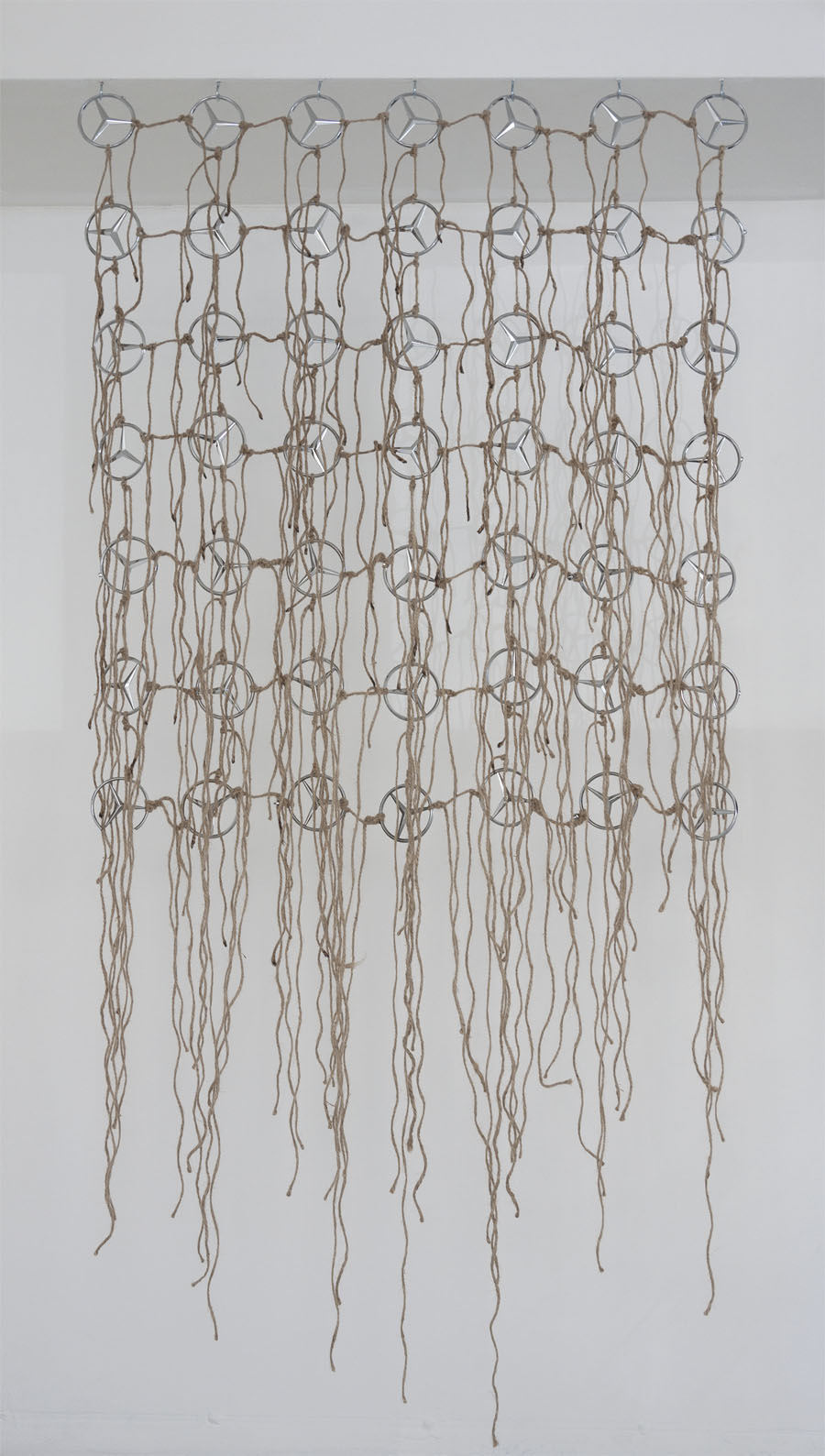 Untitled, 49 Mercedes emblems wrapped in yarn.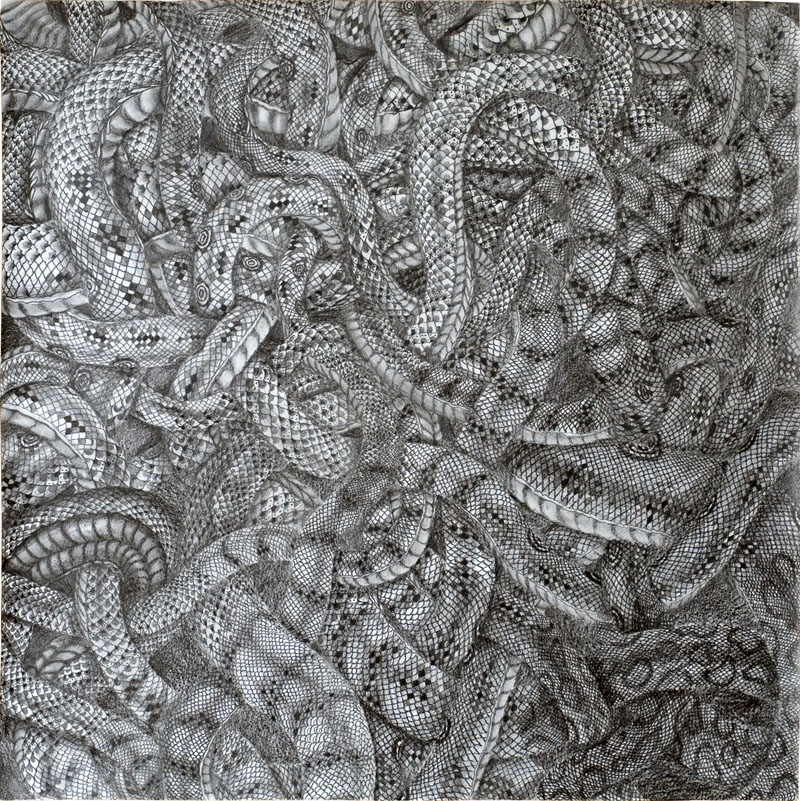 Heads or Tails?, pencil on paper 70x70cm.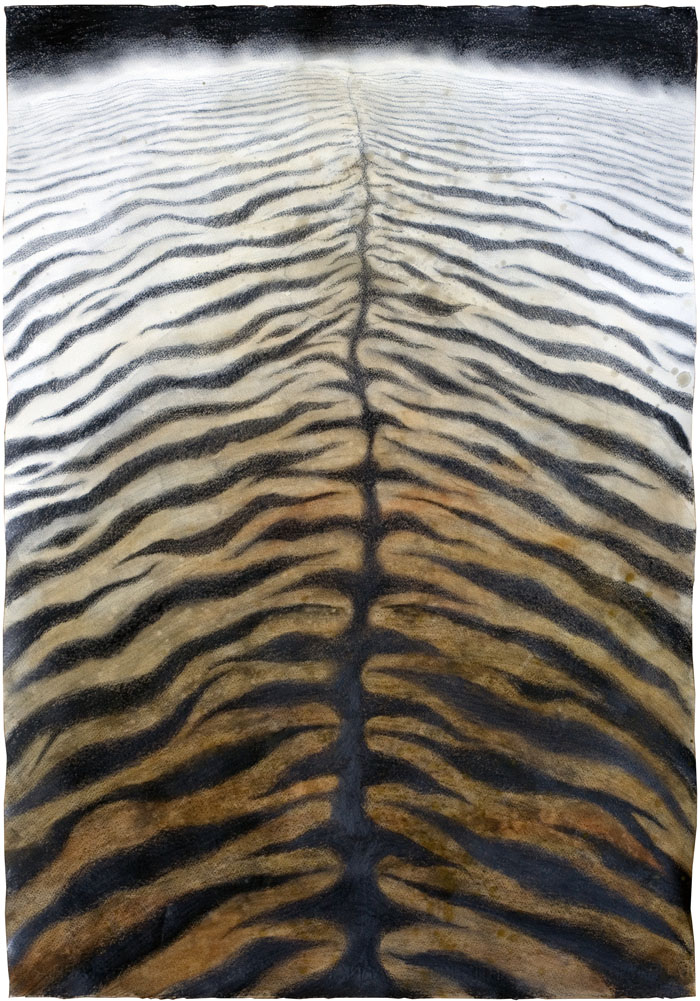 Untitled, watercolour and pencil on paper 76x56cm.

Untitled, pedestals from 13 Karate trophies 50cm.
Marathon of the Spiritual Ape (Pressemeddelelse dansk)
I udstillingen Marathon of the spiritual Ape præsenterer Silas Inoue en omfattende produktion af nye værker. Igennem skulpturer, tegninger, og akvareller udfoldes en række associationer til menneskets generelle behov for at erobre, konkurrere, og overgå sig selv. Med udgangspunkt i disse driftsbetonede tendenser omhandler udstillingen trofæer, og deres repræsentation af status og kulturelle tilhørsforhold. Samtidig er værkerne genstand for en kontemplativ arbejdsproces, dedikeret til diverse tankeksperimenter, og en meditativ fordybelse i materialet.
Udstillingens første rum består af pokal-lignende skulpturer, placeret på hylder i forskellige niveauer. Denne installation er inspireret af den kitsch æstetik som ofte kendetegner forretninger der forhandler sportstrofæer. De skulpturelle pokaler er udformet i selvhærdende keramik, og deres krakelerede overflade og imiterede patina, får dem til at fremstå gamle og slidte, som antikke amforaer. Sportstrofæets form og skinnende fremtræden, er således blevet omdannet til støvede abstraktioner af menneskets tilbøjelighed til at konkurrere om magt og status.
I udstillingens andet rum hænger en discokugle prydet med ornamenter, denne er skabt af 13 Karate pokaler som kunstneren har vundet over en længere årrække; disse er klippet i stykker og former nu en mosaik af reflekterende fragmenter. Pokalernes funktion som sejrsobjekt, og deres historier om personlig stræben efter fysisk og psykisk styrke, er på den måde blevet nedbrudt, i en humoristisk gestus til dansens mere inkluderende og sociale fortælling. Discokuglen omgives af akvareller og tegninger der på tilsvarende vis opløser symboler på sejr og status. Emblemer og eksotiske dyreskind transformeres til mere tvetydige og mystiske motiver, og i gentagelsen af mønstre, former og detaljer opstår drømmelignende landskaber og bybilleder. I Marathon of the Spiritual Ape er menneskets stræben efter en højere plads i fællesskabets orden, således blevet subjekt for en kontemplativ bevægelse ind i underbevidsthedens illusoriske og ustrukturerede verden.

Marathon of the Spiritual Ape (Press release english)
In Marathon of the Spiritual Ape, Silas Inoue presents a comprehensive production of new works. Through sculptures, drawings, and watercolours, the exhibition unfolds various associations to the general need of humanity to conquer, compete and exceed oneself. Out of these tendencies, the works evolves around trophies, and their representation of status and cultural affiliations. Simultaneously the exhibition is subject for a contemplating work process, dedicated to various thought experiments, and a meditative absorption into the material.
The first room in the exhibition consist of trophy-like sculptures placed on shelves in different levels. This installation is inspired by the kitsch aesthetic that often characterize shops selling sport trophies. The sculptures are shaped in self-hardening ceramics, with a cracked surface and imitated patina that makes them look old and shabby, like amphoras of antiquity. In this way the shape, and shinny appearance of sport trophies gets transformed, into dusty abstractions of mans disposition to compete for status and power.
The second room of the exhibition displays an ornamented disco ball, which is made of bits and pieces of 13 karate trophies, that the artist has won in tournaments over a span of years, and now forms a cut up mosaic of reflection. The function of the trophies as signifiers of victory, and their history of a personal striving towards physical and mental strength, are then shattered in a humoristic gesture to the more inclusive and social narrative of dancing. The disco ball is surrounded by drawings, and watercolour works, that in a similar way dissolves symbols of victory and status. Emblems and the fur and skin of exotic animals, are transformed into more ambiguous and mystical motifs, and in the repetition of shapes, patterns and details, dreamlike land- and cityscapes emerges. In Marathon of the Spiritual Ape, the human aspiration to rise within the social order has thus become subject to a contemplating move into the unstructured, and illusory world of the unconsciousness.